REINALDO BEYER AEROBATIC SCHOLARSHIP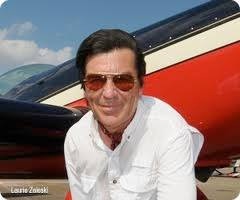 Sunrise Aviation is pleased to announce the inauguration of the Reinaldo Beyer Aerobatic Scholarship. The annual scholarship will be awarded each year during the month of February. The award honors the memory and accomplishments of Dr. Reinaldo Beyer, physician and pilot; the intent is to foster and support a life-long interest in aerobatic flight.
Reinaldo was a passionate and accomplished aerobatic competition pilot. He began aerobatic training in his native Chile in gliders and began powered aerobatic flight at Sunrise Aviation in 2000. After a brief stint competing in Decathlons Reinaldo purchased a Pitt S2-B, then an Extra 300L. He was very successful in competition and soon reached the Advanced category, where he won consistently. Reinaldo was chosen to be the Team Captain of the US Advanced Aerobatic Team in 2010. He lost his life in 2012 while practicing in a friend's airplane.
The 2014 award has now reached over $4000. The scholarship may be divided among two pilots, at the discretion of the Selection Committee.
Please contact Sunrise Dispatch for application forms by email or telephone at 800 717-4200.
Deadline for application submission: January 31, 2014.
Applicant requirements include:
A personal essay that demonstrates the value the applicant places on aerobatic training, to include details of past and planned future activity.
A record of previous flight activity.
A letter of recommendation from an aviation professional.
A letter of recommendation from a teacher or employer.
A letter of recommendation from a fellow pilot.
Details of planned aerobatic training at Sunrise Aviation, to include anticipated schedule of attendance and training goals.

A personal interview conducted by members of the selection committee.

Prior professional instruction in spins or upset recovery training
Scholarship Rules
The scholarship funds can be used only for the purchase of training and flight time in a Sunrise training course.
The award will be made in the form of credits applied to the student's scholarship flight account at Sunrise.
---
Sunrise Aviation
John Wayne Airport
19531 Campus Drive, Suite 7
Santa Ana, California 92707 USA
Voice (800) 717-4200 • (949)-852-8850
Fax (949) 852-1401
© Copyright 2009, Sunrise Aviation. All rights reserved.